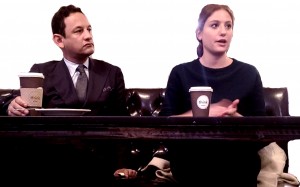 Am at the JM – January 20th 2016
Once a month, the Jewish Museum organizes AM at the JM, a salon style discussion series taking place in a coffee shop in New York on the early side of the day.
This morning brought together the New York based American artist,  Rachel Rose and the Jewish Museum deputy in Chief Jens Hoffmann. The discussion was vivid and the complicity between them palpable as they already met a few times in various contexts through the year. Rose works mainly in video, creating elaborated films which often take a full year to develop. Born in 1986, her whole work consists of 4 films.
Her first show in the US is currently on view and will until February 7th 2016 at the Whitney Museum of American Art in New York. Everything and More, a video installation named after David Foster Wallace's book about infinity Everything and more debuts the Whitney's emerging artist series. It has been organized by associate curator Christopher Y. Lew who will also co-curate the coming Whitney Biennial along with Mia Locks in the Spring of 2017.
Rachel Rose debut
Rachel Rose first shared with us her start as a painter in her formative years from Yale to London's Courtauld Institute of Art then Columbia University where she received an MFA in 2013. She presented her practice of abstract painting as frustrating. She would plan her paintings then execute them. After a while, it was difficult for her to find any valid reason to choose between surfaces treatments or colors. She would even start to doubt about art itself. She wanted to engage with meanings and world's issues and couldn't find a way to address them through that medium. Interested in documentary films, and applying their framework, Ms. Rose would immerses herself in researches, discovering all kind of connections, jumping from one theme to another with no final plan. Her approach of video is then very organic, direct and material. There, she follows her intuitions, letting herself lead by internal will and emotions. Almost like a painter I would say.
Rachel Rose mixes found materials grabbed through youtube or archives with her own, shot using advanced technology such as remote controlled lenses or steady cam. Sounds and images become materials and textures to edit, alter and transform via digital tools. She will spend months contacting ressources in order to interview the right person or shoot in the venue of her choice.
In Everything and More, she was interested in physicality as both an idea and a sensation. We hear NASA astronaut David Wolf, describing the sensations in his body when he came back to earth in an interview Rose conducted. So she is looking to bring the viewer on a voyage and back with a similar physical unbalance, that the one she felt herself after watching recent space movies such as Gravity or Interstellar. In a few minutes she brings us to dissolve ourselves in the universe and coming back transformed. A universe created, made of products of everybody's kitchen pantry, stretched through slow motion and fade in and out sequences.
Sound physicality in Palisades at the Serpentine Sackler Gallery
Palisades, was presented in the middle of Hyde Park in London last fall, at the Serpentine Sackler Gallery . The gallery is a square space divided in two adjacent rooms within a larger square. Each room hosts a preexisting video but their soundtracks are separated in different tracks, spread all around the surrounding corridor through various speakers. This display avoids interference between the two pieces, creating a new site specific situation layering meanings and encouraging the viewer to walk around.
One video, Palisades in Palisades gets its title from the Palisade Interstate Park in New Jersey where it was shot. The park, first built in 1900, sits above a 200 millions years old cliff looking down the west bank of the Hudson River. The site was involved in the  American Revolutionary War which resonates with the Serpentine gallery past , a former gunpowder store built in 1805.  The editing brings together these elements distant in time.
The other film, A Minute Ago, was shot at the Philip Johnson's Glass House in Canaan Connecticut. There, the camera, in a very flowing fashion comes from  an hailstorm on a beach to a calm garden and seamlessly, through the window glass, in the house. After a quick tour, we are brought back outside again, where we see the house from the outside. There we meet a phantomatic character who give us a tour. It is Johnson himself, from a video footage shot a few years before his death.
Walter Murch
In the Q and A, Rachel told us the influence of the work of Walter Murch in her work. Walter Murch mixed and edited the sound of many Hollywood movies such as The Godfather or Appocalypse Now. He was the first to mix the sound of an indoor conversation with the ambiant sounds of the outside. She got the chance to meet him and lead a public discussion with him at the Serpentine Gallery.
There would be so many more things to say, what stays in my mind is a smart young person who passionately shares her enthusiasm. Refreshing.
The AM at the JM series offers intimate privileged experience to anyone willing to come at 8 am in the middle of the city. Strongly recommended.
To learn more about:
Jewish Museum
Past and upcoming AM at the JM series program
Rachel Rose
Catalog


Rachel Rose is represented by the Pilar Corrias Gallery in London
Rachel Rose New York Times portrait by Blake Gopnik
Rachel Rose Blouin Art info portrait by Wendy Vogel 
Rachel Rose video interview for Palisades
Video LUMA Panel: in conversation with Tony Oursler and Hans-Ulrich Obrist
Video Miami Basel Salon Artist Talk, Playfulness: Artists as Online Gamers, Surfers and Armchair Digital Revolutionairies
Her 4 videos are: Sitting Feeding Sleeping (2013), Palisades in Palisades (2014), A Minute Ago (2014) and Everything and More (2015)
Jens Hoffmann
Jens Hoffmann portrait by Curators International
Movies
  
David Foster Wallace

The Whitney Museum of American Art
Christopher Y. Lew
The oberver portrait when he joined the Whitney after being assistant curator since 2011 at Moma Ps1
2017 Whitney Biennial curatorial announcement
Walter Murch