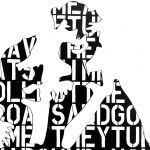 Art collecting as a couple
Collecting has been a way of living for Thea Westreich and Ethan Wagner for over 30 years. Before meeting each other in 1990, they were each collecting on their own. Since they married in 1994, they seem to always agree on what to acquire. Today, they cannot imagine collecting without each other.
An art collecting journey
Collecting is a learning process. It is an assertion of taste, ads Ethan. As you change as a person, your taste change. The more you see, the more you learn and the more you want to learn. You go from galleries to artist studios where you meet the person behind the work that first affected you. You want to know more and a relationship starts. You attach reasons to your emotions and build up understanding of the world at large. One person, introduce you to another and the journey continues.
Living artists
If they collected established names such as Diane Arbus or Sol Lewitt, they  focus on living artists and most often, emerging artists. This was right for a generation of artists emerging in the 80's and it is still accurate today. As Thea said in an interview for Introspective magazine, Christopher Wool "taught me more about painting than any history class I've taken". Since, they prefer learning from living artists than through press releases and magazines. When they admire an artist, Ethan and Thea prefer to collect in depth. It is not rare that they will acquire groups of 4 to 6 pieces of a same artist.
When Art Collecting becomes a business
Art collecting as been so much at the center of their lives that Thea even made a business around it. In 1982, she launched Thea Westreich Art Advisory Services. Art Advisory is today such a pivotal role in the art world but back then it didn't even exist. Since 2015, she left the business to her partners Suzanne Modica and Ashley Carr. Together they continue it under the more anonymous name of TWAAS.
Art collecting for history
Since 2012 something is taking Thea a lot of time and energy. It is time for them to give away the collection they patiently built. Rather than creating a foundation or a museum they choose to give away their collection to a large museum. This choice was made in their mind for the good of the artists. They want to them include in a larger history. For years, they have been testing by donating pieces here and there. Now, they made their choice. They decided to give more than 500 artworks to the Whitney Museum in New York and almost 350 to the Centre Pompidou in Paris.
History continues
Even after this important donations and the end of the advisory firm,the couple is still very active in the art world. First, they now have much more time to travel around the world. Of course, as they travel, they meet new artists to collect. But collecting is not the only way to be involved in an artist career. Since they published a book about their experience as collectors, they started publishing books with artists. Additionally, in their New York office, they invite artists to present works that are not suitable for art galleries.
The show at the Whitney Museum was on display from November 2015 to March 2016
http://whitney.org/Exhibitions/TheWestreichWagnerCollection
The show at the Centre Pompidouis on display from June 2016 to February 2017
https://www.centrepompidou.fr/cpv/resource/cKAjgxK/rz59L7g
To learn more about what collecting means for Thea Westreich and Ethan Wagner
Read the book published by Phaidon they wrote together
http://phaidon.com
Listen an hour long interview with the couple released by the Yale University radio WYBCX
http://museumofnonvisibleart.com/interviews/thea-westreich-wagner-and-ethan-wagner/
Introspective Magazine interview mentioned
http://www.1stdibs.com/introspective-magazine/thea-and-ethan-wagner/